Although WRTC-96 is long over, interest continues, as is demonstrated by web traffic. Future WRTC sponsors may be interested in some of the problems we solved, as described in these historical (hysterical?) documents. I will keep this material available on-line until interest declines. You may also contact me for any files you need.
What about WRTC-2000? Check out the official WRTC-2000 site from Slovenia!
73 de Bob, K6XX
(Formerly N6IP)
---
World Radiosport Team Championship 1996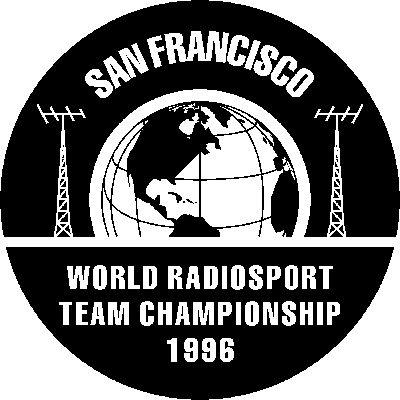 ---
For your copy, send $10 (U.S. funds) to
Bruce Sawyer, N6NT
15430 Bohlman Road
Saratoga, CA 95070
U.S.A.
This price includes shipping worldwide.
---
The 1996 World Radiosport Team Championship, sponsored by the Northern California Contest Club (NCCC), was held 13-14 July, 1996. Competitors from around the world met in the San Francisco bay area for a week of world-class contesting and socializing.
The action began Sunday, July 7. Check it out online by following the link at the bottom of this page to see the photos and captions of the contesters and happenings.
---
Last updated: 25 June 1998
---
Notice to non-USA-licensed competitors:
If you do not hold a US amateur license, you must complete Form 610A before participating.
Please get the form, print it, fill it out, and bring it with you. You do NOT need to mail it to the FCC. Get it here: FCC Form 610A. And also get the Form 610A Instructions.

---
WRTC-96 wishes to thank our corporate sponsors for their generosity:

Logo Sponsors            Corporate Donors
  Icom                     Cushcraft
  Yaesu                    Give Pizza Chance
  HRO                      Nokia
  NCDXF                    US Tower
  Shell                    Hy-Gain
  CQ                       Alinco
  ARRL                     TGV   
  WJET-TV                  AEA                  
                           ETO
                           Tied House Brewery
                           Western Digital
                           Berliner Cohen
                           RF Applications
                           Bencher

The following events are named for our corporate sponsors:


Icom                 Wednesday evening picnic
Yaesu                Napa wine tour
HRO                  Awards banquet
Shell                Thursday dinner
NCCC/Hy-Gain         Wednesday pm hospitality 
CQ                   Competitors meeting
ARRL/TGV             Silicon Valley Tour
CQ/Cushcraft         SF Tour
NCCC/Alinco          Thursday pm hospitality
US Tower/
Give Pizza Chance 
Tied House/          Sunday poolside beer/pizza
NCCC/AEA/ETO         Sunday pm hospitality

---
---
---